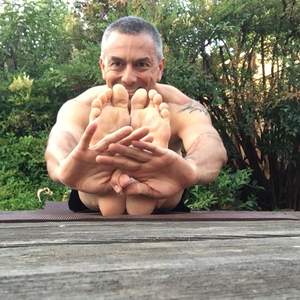 Larry Munoz – San Jose, CA
Connection!  Early on my practice was mostly a physical thing, trying to find flexibility while positioning my body in ways I'd never experienced.  Then I found mindful breath and realized balance of ease, softness and strength would best serve not only the asanas but life in general.  Here began the opening of the gates to further exploration of the other Limbs.  Time on the mat, each experience, is different.  Some days, the body moves easily.  Other days, wild thoughts of finding a new knee or other unhappy body parts appear.  The emotions, the voice of the ego, the divine, the body, the soul, all have this way of teaching me things about myself i hadn't learned any other way. This daily journey on our own personal rectangular playground, with all of its lessons, magically spills over to life and in the most beautiful way goes beyond connection with the true self, touching others all around us.  Each and every day begins with a clean slate.  Showing up daily, with whatever I have to give and riding the waves moment by moment with laughter or tears or somewhere in between.  Life.
http://breathetogetheryoga.com/wp-content/uploads/larry_blog.png
300
300
Larry Munoz
http://breathetogetheryoga.com/wp-content/uploads/bty-logo-3.png
Larry Munoz
2015-06-29 02:11:16
2017-09-10 20:23:57
Larry Munoz - How has Yoga changed my life?