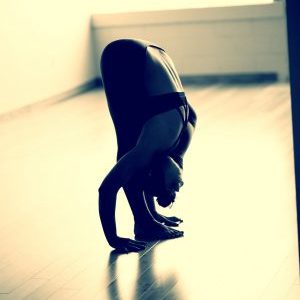 Erika Abrahamian – Tehran, Iran
Yoga shifted my life when I realized that most of what I perceived as reality was in fact a colorful fiction that my mind projected onto everything and everyone. Practice methodically strips away the falseness, so that I may be in dynamic relationship moment to moment. Through practice, I have come to appreciate and be fascinated by the multiple facets of my mind. Rather than indulging in the extreme manifestation of desire and aversion to certain states of mind, I know enough through practice to know that as Rilke said 'no feeling is final'. Yoga asana teaches me continuously that embodiment is essential if one is to be in true, authentic relationship, and, Yoga happens in relationship. The practice has given me a context to explore my sharp edges and boundaries, shadows and blindspots, weaknesses of heart, perceived limitations, self-inflicted wounds, fabricated dramas that run on a loop, ancient and outdated anxieties, existential and mundane fears, so that I can be less reactive and more responsive to the present moment. Practice teaches me to be softer, vulnerable, and fiercely honest; it requires that I be courageous on a regular basis. It has gifted me with radiant teachers and has put me in relationship with sincere students who break my heart open often with their willingness to drop in and explore. It has reinforced the importance of resilience and independence all the while underscoring the importance of a vibrant and compassionate community of inherently interconnected practitioners. It has taught me to trust the process, to trust my center, and has taught me that what matters is showing up wholeheartedly. It continues to fine-tune my capacity to shift and change all the while settling deeper into a self that is authentic and not based on any preconceived notions of who I think I ought to be. Practice has opened doors I did not know existed, so that I may be of service to others.
http://breathetogetheryoga.com/wp-content/uploads/erika_abrahamian_blog-e1495072844399.jpg
300
300
Erika Abrahamian
http://breathetogetheryoga.com/wp-content/uploads/bty-logo-3.png
Erika Abrahamian
2015-06-30 22:05:37
2017-09-10 20:19:30
Erika Abrahamian - How has Yoga changed my life?