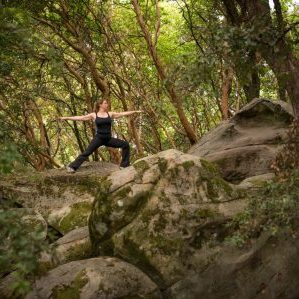 Katie Hoover – Fairfax County, Virginia
When it became obvious to me that yoga had changed my life, I wrote a poem:
Dearest Peace.
Dearest Peace, I have seen you written as prayer,
as symbols graffiti'd on walls.  I have heard choirs
sing of you and I have chanted your name
in languages I do not otherwise understand.
Dearest Peace, I have been your spokesperson, held your sign,
called on you to visit homes, hearts, bellies, countries,
but today, looking back, I realized, neither did I truly believe you existed
nor did I believe, if you did exist, that I would be worthy to receive you.
 Dearest Peace, lately, at the strangest flickering moments,
like being caught in traffic, or walking in to clean the kitchen,
a sweet sensation seeps into my shoulder joints,
a bubbling up, a smoothing over, a spontaneous giggling giddiness,
it's a warmth that comes from the inside of my own bones,
luxuriates for a moment and then slips away like one wave receding the shoreline.
I think this sensation is you.
I spent my young life trying to get away from myself, looking up at the clouds, wishing to be somewhere, someone or something else. Around the agitated age of ten, I ran everywhere I went.  I was afraid to waste time or miss something important.  When running from place to place became socially unacceptable, I danced for hours to get the terrible feelings out.
About 20 years ago, I found yoga, meditation and energy movement.  I began to settle into the space behind my eyes, move into the quiet refuge of my body and, with lots of practice, greet the shadows lurking there with curiosity and compassion.  Grounded in the body, connected to earth and open to uncertainty, yoga practice has helped me experience life with more clarity and less fear.  Maintaining a well-rounded practice gives me a steady connection to the divine pulse of life including gentle waves of peace.
http://breathetogetheryoga.com/wp-content/uploads/katie_hoover_blog-e1495072978499.jpg
299
299
Katie Hoover
http://breathetogetheryoga.com/wp-content/uploads/bty-logo-3.png
Katie Hoover
2015-06-30 22:02:17
2017-09-10 20:20:42
Katie Hoover - How has Yoga changed my life?