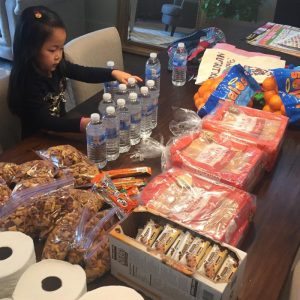 Perhaps like you, I have been sitting with how to evoke change in our world around us, as well as the world at large. Two rather "yogic" phrases have been on my mind lately: "meeting the moment," and "meeting people where they are."
As I listen to many of you, I've realized that so many at Breathe have found unique ways in which to practice both of these ideas by regularly effecting change. As our studio looks forward to year 6 of being a community, we'll begin to feature in our newsletters what our staff, members, teachers and students do to "live their yoga" as a means of continually inspiring all of us to "be the change we wish to see in the world."
I recently discovered that our tea house manager, Jennifer Dong, is teaching her children about how to give. As a family, they prepare backpacks for the homeless filled with anything you might need if you were living on a day to day bases without shelter.  As a family, they shop, pack, find homeless or homeless encampments, and give the backpacks directly as a year round "practice." She always has backpacks in her car, ready when she sees someone in need.  Her young children are learning what it means to provide direct support and comfort to those around us. Her actions have inspired me to share this "practice," with my family.
I'm inviting the entire Breathe community to participate as an extension of our practice. Would you buy a few backpacks, pack them and give them away to people who need them? I'm especially interested in this project because it offers us the opportunity to practice "meeting the moment" and "meeting people where they are" directly and with compassion. We're all learning how to make the world around us a better place, and evidence suggests that we're most effective when working together.
Thankfully, Jennifer Dong has provided the list of supplies she generally purchases and guidelines for how to put the backpacks together below. Let's see what we can do!
Wishing you and for your family comfort and joy during this holiday season,
Jennifer
---
Suggested Items for Backpacks
Toiletries & Miscellaneous
Shampoo
Travel Toothpaste
Travel Toothbrush
Deodorant
Comb or Brush
Chapstick
Gloves or Mittens
Small First Aid Kit
New Socks
New Underwear
Emergency Blankets
Disposable Rain Ponchos
Food & Drink
Small Gift Cards (Mcdonalds, Panera, etc)
Ready to Eat Cans with Easy Open Lids
Soft Foods (apple sauce, puddings)
Lightweight Snacks (trail mix, granola bars, dried fruit, crackers)
Love
Words of Encouragement
Eye Contact
Smiles
A Listening Ear
Conversation
A Moment of your Time
http://breathetogetheryoga.com/wp-content/uploads/backpackproject-e1495070961170.jpg
300
300
Jennifer Prugh
http://breathetogetheryoga.com/wp-content/uploads/bty-logo-3.png
Jennifer Prugh
2016-12-01 03:38:37
2017-09-10 20:13:14
The Backpack Project