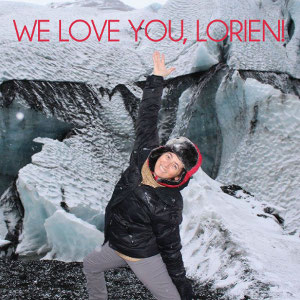 I met Lorien Neargarder in 2009 as her much gentler yoga class followed a vinyasa I was teaching at Willow Glen Yoga. As we passed each other at the door, she was always so friendly and welcoming, and she quite obviously had a sense of humor. Her students would wait patiently in droves at the door. They loved her.
When it was time to open our studio, my business partner, Rob, and I had put cancer recovery at the center of all programming, because our studio was built upon that mission. We needed someone who would tirelessly and graciously give themselves to providing cancer support. When I spoke with Lorien, she was enthusiastic and dedicated right from the get-go (and I learned that she was oddly tied to our location in so much that she used to teach aerobics in the building that our studio is in now when it was a ladies-only gym in the late 70s).
This studio is built upon relationship. Everyone who works at BTY has an integral part in the greater workings. Whether they are a staff member, wellness professional, or teacher, they care deeply about their work and constantly and intelligently look at how they can even be even more effective. Lorien represents the best of us. Since 2011, Lorien Neargarder has served thousands of people with cancer at our studio, provided thousands of students classes in yin/restorative and pranayama, run three festivals to support cancer care through Cancer CAREpoint, and trained dozens of teachers to offer cancer support in order to make her important work more accessible to those who need it.
Lorien is moving to Florida with her family to begin a new adventure. Her last Yoga for Cancer Survivorship class will be June 27th (yes, chances are excellent that we'll continue to see her, albeit in a more limited capacity, through workshops and trainings).
We are fortunate that the brilliant and kind Lindsey Kolb will step into Lorien's big shoes and begin teaching Yoga for Cancer Survivorship beginning July 3.
On behalf of all of us, we thank you, Lorien, for being everything one could hope for in a teacher and a colleague.
Jennifer and everyone at Breathe Together.
http://breathetogetheryoga.com/wp-content/uploads/LorienNeargardner.jpg
300
300
Jennifer Prugh
http://breathetogetheryoga.com/wp-content/uploads/bty-logo-3.png
Jennifer Prugh
2017-06-30 01:44:43
2017-09-10 20:09:58
Lorien Neargarder