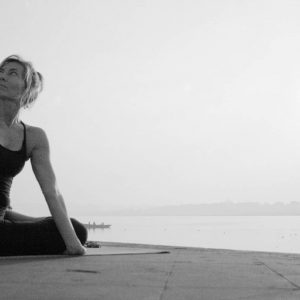 Autumn Greetings,
We're steeping ourselves in the middle of Fall and all that comes with it. I've always looked at the approaching holidays as an opportunity to practice what I've been practicing all year. As a yoga practitioner, this means being kind whenever possible, delivering truth gently, valuing our energy and using it well, releasing expectations for how we're sure things should go, and giving a little more wherever we can.
The season to honor relationships is upon us. We can begin by maintaining a regular yoga practice and a practice of self care, so that we can bring our best selves to all our relationships. We at BTY are dedicated to providing you that opportunity.
In honor of numerous cultural holidays that appreciate those in our lives who have passed, we have invited you to bring in a picture of a relative or friend who you love on November 2nd. We've cleared our table between the two studios to honor those who have passed, beginning on Dia de los Muertos. I live in a Hispanic neighborhood and have been honoring my relatives in this fashion for over twenty years. My neighbors from South America have also felt appreciated that people from outside their culture have taken the time to recognize the value of their traditions. At a time when it's attempting to feel as though divisiveness has become the rule of the land, taking time to learn about what it's like to be in another's shoes is a way of contributing to the greater good. And you know as well as I do, that all of those people continue to live in our hearts. Taking time to honor them is healthy.
To celebrate our Veterans this month, all classes to all Veterans are FREE.
And for Thanksgiving, Lorien Neargarder will be "coming home" to teach "Gratitude Meditation and Gentle Movement," while I will be teaching the traditional "All Levels Gratitude Flow." Space is limited for both. Signing up in advance is a good idea. We look forward to being with you.
Furthermore, in response to the fires north of us, we'll donate ten percent of all of our earnings on Thanksgiving Day weekend to contribute to the Redwood Empire Food Bank which is charged with providing food to all those who have lost their homes during this incredible disaster.
Caring for our neighbors, those we know and those we don't is a form of radical social action. Saying hello to people in our neighborhoods, helping someone with their groceries, paying someone else's bridge toll, being sure everyone in our lives knows how much they mean to us. Let's close out the year strengthening all of our relationships!
Love,
Jennifer and everyone at BTY
http://breathetogetheryoga.com/wp-content/uploads/jenn_river-e1509777939345.jpg
720
720
Christy Eicher
http://breathetogetheryoga.com/wp-content/uploads/bty-logo-3.png
Christy Eicher
2017-11-04 06:46:59
2017-11-04 06:46:59
Moving Into the Holidays