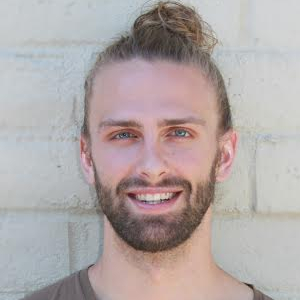 James stepped onto his mat for the first time eight years ago in a community college class in Chico, CA. Being stiff would be an understatement, as he could barely touch his ankles. Although he was sore after his first class, the calming sleep which took place that night had him coming back for more. After transferring south to San Jose State to finish his degree, he began to find a more steady practice.
Sports have always been a major aspect of his life. Growing up in the Washington D.C. area, this was especially true with lacrosse. Quickly seeing the connection between a yoga practice and fewer injuries on the field, James began to share yoga with his teammates. Over the past five years he has enjoyed teaching yoga to lacrosse teams all over California. It was a natural step to seek the yoga training necessary to integrate teaching into his life. James completed his 200 Hour Yoga Alliance Certification through Jennifer Prugh's Joy of Yoga Teacher Training in 2014.
James now focuses his time on the mat as an ashtanga practitioner under the instruction of Erika Abrahamian. Practicing Mysore nearly 6 days per week at Breathe, he enjoys the discipline and progression that the method offers. Off of the mat, he continues to teach yoga to high school and college athletes, as well as coaching lacrosse at the youth level.