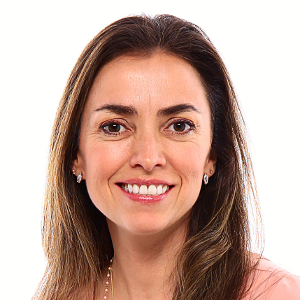 Lineth was introduced to yoga in her native Costa Rica. After earning her bachelor degree in Tourism and an MBA, she worked in global business and relocated to the United States in 2008. A car accident in 2013 changed her plans. After an initial recovery time of rest and physical therapy, Lineth turned to yoga to continue her recovery. She started slowly by just taking one or two yoga classes a week, after a few months she was participating in more classes and noticed how much yoga was helping her to recover well. She found that attending a variety of yoga practices helped her feel better.
She enrolled in a yoga teacher training program initially to build skills to tend to her own needs. She wanted to know more about the practices that helped her heal. Soon she realized she wanted to shift her career path to yoga and directly help others to be happy and free from suffering.
Under the instruction of Jennifer Prugh at Breathe Together, Lineth earned JOY of Yoga certification after completing 200 hours of intensive study and practical training. She continued her education and received additional training on Yoga for Trauma Recovery and Yoga for Older Adults, and she studied Vinyasa Krama under Srivatsa Ramaswami.
Chair Yoga became a particular interest of Lineth's as instructor Janine Ramonda took her under her wing and welcomed her to participate and learn in many classes—thanks Janine! Students were a variety of ages. Some attended to stay healthy into advanced age, and some because they were recovering from surgeries. Lineth was glad and humble to be in the presence of so many smiling faces who continued coming to class because they just wanted to feel better. Her heart was touched by the courage of those who may have believed traditional yoga would be too physically challenging, but nevertheless came, tried, and benefited from Chair Yoga.
Lineth loves learning as much as teaching. She completed the Compassion Cultivation Training program at Stanford University, and is nearly finished with her 500-hour certification. Lineth currently practices Mysore, a style of self-practice particular to the Ashtanga Vinyasa method.
Lineth is a Registered Yoga Teacher (RYT®) registered with Yoga Alliance and the founder of Yoga Initiatives.