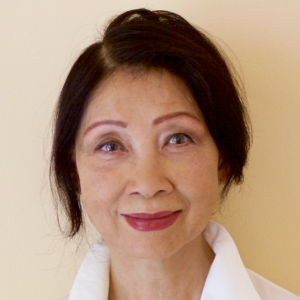 MinhThu left her native country, Viet Nam, in search of freedom in the midst of terrifying chaos a few days before Saigon fell into the hands of communism in April 1975, and began a new chapter in her life in the USA, her adopted new country.
Having witnessed/experienced countless life changing events as a result of growing up with images of war as part of daily life, she longed for solace and inner peace, struggling to come to terms with understanding and embracing this painful part of her life. Putting aside her background in law from the University of Saigon, she turned to service, and spent a number of years working with the physically challenged population, coordinating services to assist in their return to a more productive and meaningful life. It was during this time that she came to learn the true meaning of empathy, compassion, honesty, courage and love.
MinhThu took her first yoga class nearly thirteen years ago at a neighborhood fitness club, and to this day believes Destiny guided her steps on that day. And so began her relationship with yoga that she lovingly and gratefully cultivated up to this day. She developed a strong bond and love for the discipline as she let herself immerse into it, savoring and in awe of the transformation she began to experience inside. The practice gave her the tools and mental strength to embark on a journey toward forgiveness and enlightenment.
MinhThu's personal relationship with yoga led to her decision to deepen her knowledge and continually expand her abilities so she can bring yoga to anyone who opens their heart to it. She completed the first 100 hours of Teacher Training under Kenny Graham and Samantha Shakti Brown of Boulder Creek, CA, and the second 100 hours under Jennifer Prugh of Breathe Los Gatos, CA. She successfully completed her 300 Hour Teacher Training Program under the guidance of Jennifer Prugh.
MinhThu is grateful for all the teachers she was/is fortunate enough to train under, who have instilled the love and joy of yoga in her and greatly inspired her in her quest for deep transformation within. In her classes, she strives at providing her students, whom she feels privileged to be of service, with a safe environment to practice in, emphasizing proper body alignment to achieve optimal form. Drawing from her Anusara and Vinyasa background, her classes weave together strength and flexibility with the breath as the guiding thread throughout, and emphasize opening the heart to explore countless possibilities on and off the mat.
MinhThu supports VNHELP, a nonprofit organization whose mission is to transform the lives of Viet Nam's poor by providing humanitarian and development assistance (www.vnhelp.org).