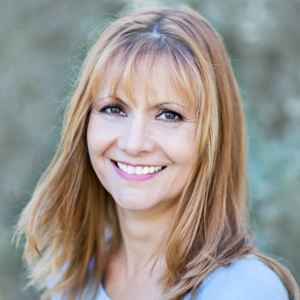 Nelly Kavaldjiev is a Yoga Alliance RYT 500 teacher, certified through Jennifer Prugh's JOY of Yoga training program. She's been also fortunate to study with Cain Carroll, Bryan Kest, Mark Singleton, Srivatsa Ramaswami, Charanpal Kaur, and other inspiring teachers. Nelly has certification in Vinyasa and Kundalini, as well as credentials as a kids yoga instructor. She works individually with children with special needs.
Nelly's yoga journey began in 2005, and soon it evolved into a passion and dedication. Feeling its deeply transformative power, she introduced the practice to her children, and encouraged them to find their own playful and creative approach to it. Nelly is also a Qigong practitioner, who integrates this ancient tradition into her yoga routines. She guides her students to search within and follow their inner voice, while cultivating a loving and nurturing practice. She is a creative cook, and a strong believer in holistic approach to health.
Nelly holds a Master's Degree in Journalism from Sofia University and a Master's Degree in Economics from University of National and World Economy in Sofia, Bulgaria. She supports the Environmental Working Group and the Organic Consumer Association.