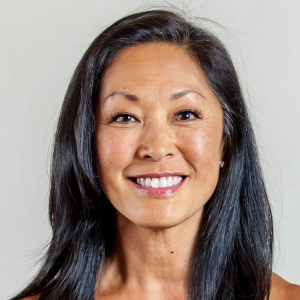 Robin has had a lifelong passion for all things active. Whether it's hiking, running, skiing, working out, or jetskiing and paddle boarding on the lake, she is appreciative of the gift of physical motion.
To paraphrase a quote by Oscar Wilde, "With age comes wisdom…", Robin believes the wisdom to moves ones body mindfully and with   minimal harm has come with age. She adheres to the belief that we are here for the long haul and we need to help our bodies make it to the  finish line.
Taking her first yoga class as a way to "be more flexible" as a runner, Robin slowly began to find a connection of her body and mind. Yoga not only gave her what she initially sought, but she found greater balance and strength…physically, emotionally and spiritually. Most importantly, she found a greater sense of calm and the sensibility to use yoga as a means to balance out the rigors of an active life.
Becoming a yoga teacher has been a dream she never knew she had been seeking. Robin's enthusiasm for everyone to maintain an active life is what drives her love of careful and thoughtful teaching.