100 Hour Bhakti Intensive
Prajna Vieira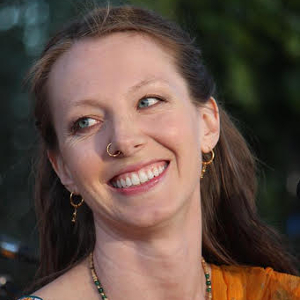 Bhakti is the yoga of the heart—the yoga of falling into love itself. Through spiritual practice, the yogi becomes the lover, and the divine becomes the beloved. This intimate relationship is universal and timeless, healing and transformational. What differentiates Bhakti Yoga from other devotional, heart-centered practices, are the elements of culture and tradition. Bhakti Yoga has roots that go back thousands of years, and practices that include not only kirtan/chanting, but also storytelling, ceremony, dance, poetry, art, and more. An integral part of Sanatana Dharma (Hinduism), Bhakti Yoga has historically touched (and been touched by) Sufis, Jains, Buddhists, Sikhs, and Christians as well.
This 100 hour intensive is focused on traditional teachings and practices to deepen our sense of intimacy with the divine, so that our lives are aligned with love. The five 20 hour modules can be taken a la carte, all together, or accessed online. Each module will shed light on different elements of the culture and tradition of Bhakti Yoga. Guest teachers will join us from time to time to illuminate our subjects and broaden our view. All are welcome—no particular talent, experience or background is required.
For those enrolled in the online offering, you will receive information directly from Prajna detailing where and how to access video content.  Please direct all online and technical questions to Prajna's assistant, Shelly Dorai-Raj.
Module 1—Kirtan: Vocal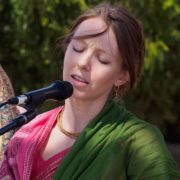 Kirtan, the call and response-style chanting music of ancient India, is quickly becoming the most well-known Bhakti practice here in the west. The experience of coming together in community to sing sacred mantras and divine names can be life-changing for many, yet mostly in the west it is experienced in concert-form. This module steps out of the "performance" mould and into the realm of personal and communal sadhana (spiritual practice).
Many of us hold the belief that we can't sing or shouldn't sing. The voice is so intimate, personal and vulnerable—it's no wonder we feel shy to explore it further. We may not realize that singing, like yoga, can be learned with technique, guidance and steady practice over time.
We will be learning both beginning Hindustani (North Indian classical) and western vocal techniques, gaining foundational tools to be able to sit alone or together and engage in chanting as a personal practice. We'll work with opening up our vocal range and refining the quality of our voice, and how to practice effectively for the long term.
Saturday, April 21, 2018 | 1:30 – 8:30pm

Sunday, April 22, 2018 | 1:30 – 4:30pm

Saturday, April 28, 2018 | 1:30 – 8:30pm

Sunday, April 29, 2018 | 1:30 – 4:30pm

* Early-bird ends 4/3
Module 2—Kirtan: Harmonium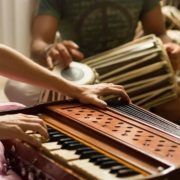 While kirtan can be accompanied by any musical instrument, there's no doubt that the little pump organ known as the harmonium has become the most beloved, both in the west and in India. The harmonium was brought to India by European missionaries, and adapted into its current form by Indian musicians in the mid-19th century. Today it is an integral element of kirtan practice and performance, and can be played in either an Indian (raga-based, melodic) or western (harmony-based, with chords) style. We will study harmonium basics and beyond, learning to play a number of kirtans in both Indian and Western styles.
If you do not have a harmonium, contact Prajna at ammasprajna@gmail.com to discuss renting or purchasing one for this course.
Saturday, May 19, 2018 | 1:30 – 8:30pm

Sunday, May 20, 2018 | 1:30 – 4:30pm

Saturday, May 26, 2018 | 1:30 – 8:30pm

Sunday, May 27, 2018 | 1:30 – 4:30pm
* Early-bird ends 5/1

Module 3—Sanskrit: Pronunciation, Meaning & Mantras
The devotional kirtans, poetry, and stories of traditional Bhakti culture have been written in all the various languages of India, and most have been translated into English. Sanskrit, however, remains the language of Mantra. A sacred and mystical language, it is considered extremely important to pronounce the words and mantras as accurately as possible. However, it is impossible to intuit the pronunciation of Sanskrit that has been transliterated into English characters, and so a system of diacritical markings exists to help decipher the correct sound.
In this module we will learn how to use the transliteration system to pronounce Sanskrit mantras and words beautifully and accurately. We will learn a number of ancient mantras and prayers, and develop a personal chanting practice for meditation.
Saturday, June 16, 2018 | 1:30 – 8:30pm

Sunday, June 17, 2018 | 1:30 – 4:30pm

Saturday, June 23, 2018 | 1:30 – 8:30pm

Sunday, June 24, 2018 | 1:30 – 4:30pm
*Early-bird ends 5/29
Module 4—Harikatha: Meeting the Gods & Goddesses Through the Devotional Arts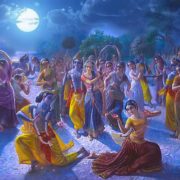 Music is only ONE of the artistic expressions utilized in the Bhakti tradition. For countless centuries, Bhakti Yogis have encountered the various forms of the Divine through song, dance, poetry, storytelling, art and drama. In this module we will hear stories of gods and goddesses, heroes and mighty foes. We will read the heart-melting poetry of Mirabai and other bhakti saints, and write our own "love poems to God." We will witness a performance of classical Indian dance, and learn some beginning steps and movements, and we will study beautiful paintings of the Hindu deities to learn about the deep symbolism of their unique forms.
Saturday, July 21, 2018 | 1:30 – 8:30pm

Sunday, July 22, 2018 | 1:30 – 4:30pm

Saturday, July 28, 2018 | 1:30 – 8:30pm

Sunday, July 29, 2018 | 1:30 – 4:30pm
*Early-bird ends 7/3
Module 5—Heart of the Bhagavad Gita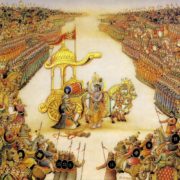 Discover the timeless wisdom of the Bhagavad Gita ("Song of God"); the most beloved and influential of ancient yogic texts. For Bhaktas, the Bhagavad Gita is the heart and soul of the yoga tradition. It provides a template for deepening our spiritual practice and connection to the Divine according to our own understanding. It also guides us in how to live a life of harmony and integrity. This module will walk you through the text, with special focus on the Gita's teachings on love, devotion, and service. We will incorporate the teachings into our daily lives through writing practice, personal reflection and meditation.
Saturday, August 18, 2018 | 1:30 – 8:30pm

Sunday, August 19, 2018 | 1:30 – 4:30pm

Saturday, August 25, 2018 | 1:30 – 8:30pm

Sunday, August 26, 2018 | 1:30 – 4:30pm
*Early-bird ends 7/31
Full Intensive

Per Module

Online

General

$1950

General

$450

General

$300

Members

$1700

Members

$375

Early-Bird

$1700

(through April 3)

Early-Bird

$375

(see descriptions for early-bird deadlines)