Overcoming the Negative Mind – A Kundalini Yoga Sound Immersion Experience
Charanpal Kaur & Danny Goldberg
Saturday, February 3rd | 5pm – 7:30pm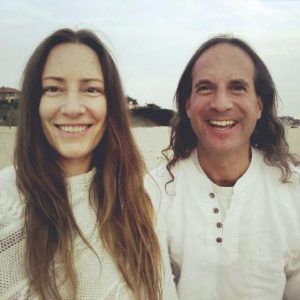 In this workshop, you will learn ancient technologies from the lineage of Kundalini yoga as taught by Yogi Bhajan to shake up patterns of negativity in your mind and set yourself for a positive outlook. There are three functional aspects of the mind; negative mind, positive mind, and neutral mind. The negative mind is essential in that it senses danger and protects us from harm. The issue arises when we become stuck in our negative mind and don't feel we have the power to rise above it.
Alongside the atmospheric and etheric quality of the sound immersion experience, we will dive deep into potent meditations and chants that will grant you the life force energy to overcome negativity and release fear. The positive mind allows us to see the good in ourselves and recognize the opportunities in even challenging situations. It is solution-oriented, and it can become your greatest ally, but we must learn how to harness it and apply it to living.
The last hour, you will lay in savasana and be guided into a deep meditation by the sound vibrations of the singing bowls, gongs and chimes. These healing vibrations pass through our bodies, opening blockages and allowing our minds to quiet. The physiological benefits of sound on the body, emotions and cognition is transforming.
About Charanpal
Charanpal Kaur, M.A. (E-RYT 500) is a KRI-certified Kundalini Yoga Teacher and intuitive counselor. She is a featured teacher for two international online yoga communities; Kundalini Lounge (London, UK) and Kundalini Live (Monterrey, CA). With her inspirational energy, and great sense of humor, she is a relatable yogi with mass appeal. She trained with some of the most venerated teachings in the lineage as taught by Yogi Bhajan, including with Gurmukh in Rishikesh, India. Charanpal leads retreats and workshops worldwide. Her Youtube classes have gone viral, with The Keep Up Spirit surpassing 300,000 views. She is a recording artist, with two mantra albums to date. Her last release, Aeons, made it to #4 on the iTunes World Music charts. Charanpal has a master's degree in Spiritual Psychology and specializes in Gestalt Therapy. She founded The Oracle is You, a service dedicated to empowering the intuitive voice of the Soul. Living in the redwoods of Santa Cruz county with her husband, two cats, and four alpacas, she feels blessed to live the life of a householder with the values and lifestyle of a yogini. For more information, visit www.CharanpalMusic.com.
About Danny
Danny Goldberg's Sound Immersion Experience weaves the restorative vibrations of singing bowls, gongs & chimes to create a blanket of healing sounds. The sound provides a channel for release, opening & transformation; tuning our vibrational frequency. Danny performs solo & in collaboration with Yoga, Qigong, Breathwork & Meditation. Danny offers the Sound Intensive Experience for individual or group sessions at yoga studios, healing centers & events throughout the U.S. including: Stanford University's Health Improvement Program, Globe Sound Healing Conference, Beloved, New Living Expo, Wanderlust, Phases of the Moon Festival, Breathe Yoga, Divinitree Yoga, Yoga Tree, Science & Nonduality Conference, Lightning in a Bottle, Lucidity, Symbiosis Gathering & countless other events. Danny has presented the Sound Intensive for UC Santa Cruz & Foothill College Music Program annually. www.DannyGoldberg.org
General

$65

Members

$55

Early-Bird

$55

through 1/16