The Gift of Relaxation
Chrissy Graham
Saturday, February 24th | 1:30pm – 4:30pm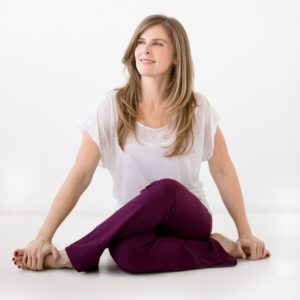 Improve your capacity to heal your body by giving yourself the gift of restorative yoga. In this workshop you will have the opportunity to take deep rest by being held comfortably in supportive, gentle yoga postures. When you allow time for your body to unwind this gives your nervous system the chance to switch from fight or flight to a state of rest and digest. Give your body time to truly heal and rebuild bringing your senses back to a revitalized and relaxed state.
About Chrissy Graham
Lighthearted, fun, and passionate, Chrissy radiates positivity. She teaches her classes using her wide-range of life experiences and the extensive knowledge she gained in her 19 years of yoga study. She is well versed in various systems of yoga and was a Certified Anusara Yoga teacher for 15 years. As a Certified E-RYT 500 Yoga Instructor, Chrissy enthusiastically teaches public classes, workshops, retreats, restorative yoga, kids' yoga, private lessons, corporate yoga, Teacher Trainings and Immersions throughout the Bay area and abroad.
Chrissy's varied classes focus on alignment based movement with an emphasis on weight bearing poses and dynamic movement so students are able to develop a greater sense of their bodies' bio-mechanics, to practice safely, and to strengthen while stretching. Having traveled to Holland, Hawaii and across the continental United States to teach yoga, she blends philosophy, therapeutics, and a knowledge of nutrition and dietary wellness to create complete and lively classes. Chrissy's appreciation of nature and enthusiasm for life, emanate from her soul in everything she does. Since yoga is her first love, these qualities fill her classroom and inspire her students.
General

$65

Members

$50

Early-Bird

$50

through 2/6