Yoga for Trauma Recovery: 30 Hour Intensive
Joanne Varni & Rebekah Tayebi
Friday, June 15th – Sunday, June 24th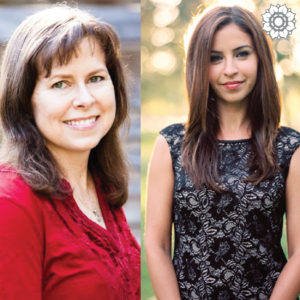 In this 30 hour intensive, you will learn how to use yoga and mindfulness techniques to work towards your own recovery and If you are a teacher or in the healing arts you will become familiar with how to incorporate these modalities with populations who are recovering from physical and emotional trauma, including those who suffer from PTSD. This intensive is open to anyone going through a healing process, teachers, anyone working in the healing arts, and is an all levels course.
The course will be both lecture and experiential, deepening your understanding of the affects of trauma on the physical and emotional bodies. The lecture portion will include trauma and our anatomy, the definition and explanation around various forms of trauma and how it affects all of us, including generational trauma, the 8 limbs of yoga as it relates to trauma, and the subtle body. Metta meditation, mindfulness practices and other Buddhist psychology methods will be explored. You will learn and experience different physical techniques including yoga, somatic yoga and neurogenic tremoring to help release and move stuck energy from the body.
Course Topics
Presentation and discussion on the effects of trauma on the physical and emotional body
Presentation on the subtle body in regards to trauma

 

Demonstration and practice of meditation, visualization and mindfulness
Yoga practices including somatic, seated, and standing as well as neurogenic tremoring (based on the TREs) so you can practice anywhere
Work individually, with partners and groups with self-inquiry prompts
Learn how to incorporate these practices into your daily life
Included in the course is the Trauma for Recovery manual.
Recommended Reading
Manual (provided at training)
The Body Keeps Score by Bessel van der Kolk
An Unspoken Voice, Peter A. Levine
Overcoming Trauma through Yoga, by Dave Emerson
Additional articles and literature will be provided
Schedule
Friday, June 15th | 6pm – 9pm
Saturday, June 16th | 12:30pm – 9pm
Sunday, June 17th | 1:15pm – 4:45pm
Friday, June 22nd | 6pm – 9pm
Saturday, June 23rd | 12:30pm – 9pm
Sunday, June 24th | 1:15pm – 4:45pm
About Joanne & Rebekah
Joanne Varni is a Yoga Alliance Certified E-RYT500 and completed her certifications through Jennifer Prugh's JOY of Yoga teacher trainings. She is a certified Trauma Sensitive Yoga teacher having received her certification through TSY under the renowned guidance of Bessel van der Kolk. Her Yoga Therapeutics certification was completed with Cheri Clampett and Arturo Peal and she completed the Core Application Course with Liz Koch, a leading psoas muscle expert. She is also a Level II TRE Practitioner. She teaches classes focusing on Wellness, Restorative, and Core, Release and Restore (Inspired by TRE) classes. She teaches TSY at the VA in Menlo Park and Palo Alto and at the Center for Survivors of Torture. She also has taught voluntarily to women at the Elmwood Correctional Facility in Milpitas.
Rebekah Tayebi is the founder of Satya Family Coaching, an in-home service that provides therapeutic support to young women and their parents. She earned her Master's degree in Social Work from Columbia University and has devoted her career to working intensively with families. She earned her 200 and 500 hour Joy of Yoga teacher certification and piloted a yoga for teens program in a therapeutic boarding school for young women. Her coaching service integrates yoga philosophy with Western therapeutic techniques. She has specialized in trauma and feels honored to witness the healing and empowerment that are possible when people are in recovery. It's a gift to witness the strength of the human spirit and she's excited to bring that work to the Yoga for Trauma.
General

$685

Early-Bird

$615

(through May 28)