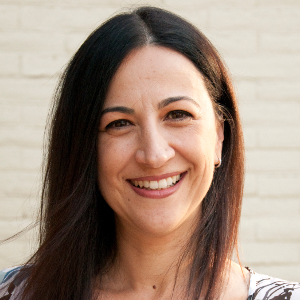 Karina started her transformational journey in yoga in the year 2000 and has been teaching since 2011 . She has been a Teacher of Israeli Folk Dances since 1988 and has been curious about movement, flow and breath since becoming a dancer in her childhood.
Karina was inspired by Chrissy Graham while taking an Anusara Yoga class and has studied with Kenny Graham, Samantha Brown, Daniella Cotreau, Desiree Rumbaugh and many other Anusara teachers since then. Her first experience with yoga was in the Iyengar style which she keeps studying and deepening with passion since her first classes in Argentina.
She is a RYT 200 with Yoga Alliance after receiving her training at Avalon Art and Yoga Studio in 2011 and holds a 100 hour Certification in the Anusara style with Kenny Graham and Samantha Brown from 2012. Karina obtained her 500 RYT in 2016 with the Joy of Yoga School led by Jennifer Prugh.
Karina believes that the powerful change that yoga offers comes mostly from practicing and that is why you may see her in class every day. She is passionate about inspiring her students with a theme that flows throughout the practice while emphasizing breath awareness, alignment, balance, and strength. She is also dedicated to conveying the importance of the philosophy of yoga through readings, quotes, imagery, and poems in each class she leads. With humor and a compassionate approach, she guides students toward developing more awareness of their physical, emotional and psychological sheaths.